The exterior is an anonymised housing-estate-based glass-fronted shop-front and the interior is a standard modern office layout.
FREE Business Address service at this location only. Use discount code FREEVO-BA-2021 on our sister site.
Silicon Roundabout - Shoreditch N1
Shoreditch has been gentrified by the creative industries and is now synonymous with the the concept of young digital startups.
Holborn Viaduct - City Of London EC1
Near City Thameslink Station, this location is notable for the ornate Holborn Viaduct bridge itself and being in the City of London, the financial district.
Mosley Street - Manchester M2
Near Piccadilly Station and Gardens, this office's location is notable for being at the heart of what is called England's 'Second City', after London.
Thistle Street - Edinburgh EH2
The street contains mainly office premises and modern, niche retail outlets, outside which area are the standard retail businesses common to a city centre location.
Barking Road - East London E13
Near Upton Park, this office's location is notable for being the old location of the Premier League football team West Ham. The area is a fairly popular area for families and local businesses.
Churchill Way - Cardiff CF10
Cardiff is the principal finance and business services centre in Wales, and as such there is a strong representation of these industries in the local economy.
Cromwell Road - London Kensington SW7
Kensington, one of the most expensive areas in London is synonymous with graduates and professionals - who make up 73% of the population.
South Molton Street - London Mayfair W1K
Mayfair is an upmarket area in London's West End. It hosts some of the most famous and expensive commercial and residential properties in London.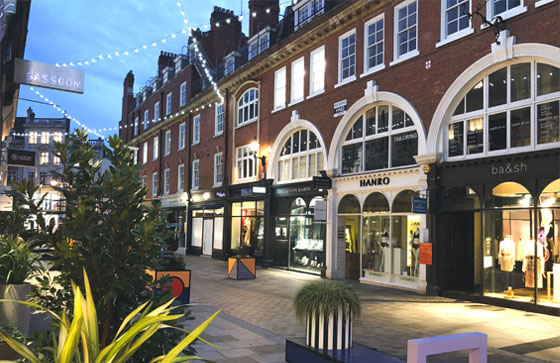 The Priory Queensway - Birmingham B4
This prime location is at the heart of Britain's second-largest city and the social, cultural, financial, and commercial centre of the UK's Midlands.